For
Creatives, Mavericks & Spiritually Sensitive Introverts women
in love with cosy living, planning, & oracle reading.
Turn Daydreaming Into Unapologetic Self-Confidence
In 7 Days
💌 From Paris, France 🥐
Hi, Hello, Bonjour !
If you'd like to build a rock-solid confidence, stop following mainstream BS, & start trusting your inner wisdom, then THIS book will blow your mind because I share:
The
"No Nonsense Secret Formula"

to breaking free from self-help guilt & being unconditionally confident IN REAL LIFE.
⚠️  All sales are final. No refund. ⚠️
⚠️  Available on Kindle, Paperback, Hard cover ⚠️
But first, let see if you can relate
For years, you checked
ALL

the boxes:

🥺  work out at least once a day

🥺  invest all your spare time in pricey mastermind to "level up"

🥺  reduce fun/ chill time to bare minimum

🥺  get a badge of honour for tackling 100's To Do's every single damn day

🥺  happily put your needs after everyone else's agenda

🥺  follow every lifestyle guru with overnight solutions

🥺  barely sleep 3 hours/night so you can do miracle morning/ meditation/ yoga/ journaling
Get out of these boxes NOW!
⚠️  Cost: $7 All sales are final. No refund. ⚠️
⚠️  Available on Kindle, Paperback, Hard cover ⚠️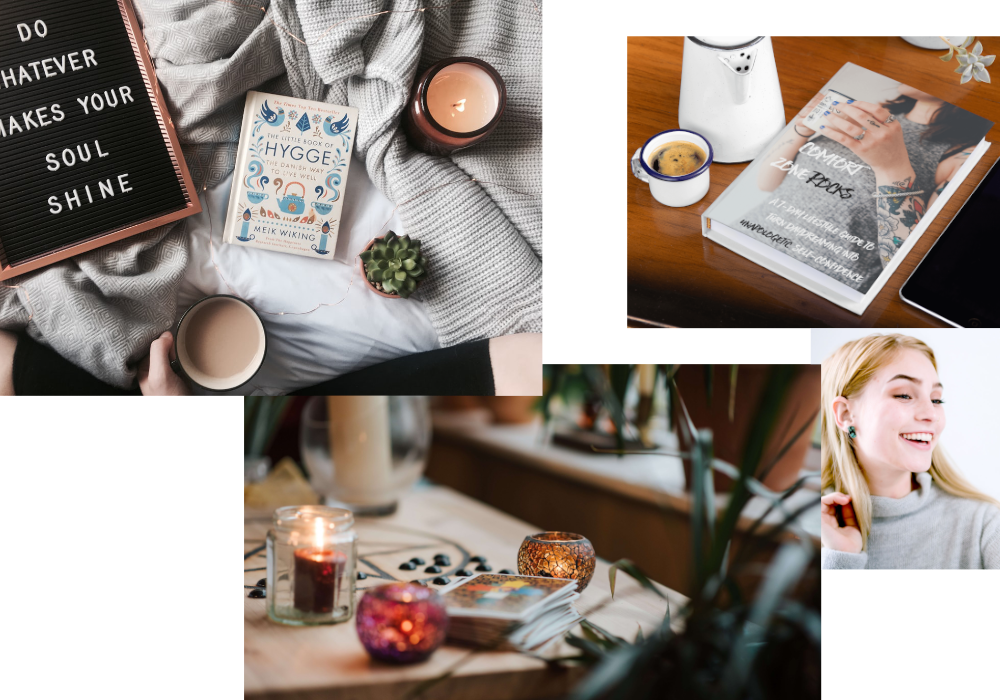 On paper

, you ARE amazing, dedicated, & committed.
But, chances are you also feel drained & misunderstood

.
It's that dreadful belief you're not wired for happiness or you have to endure anxiety your entire life so you can fit in.
Deep down, all you can recall in moments of despair is a bunch of ol' BS crap from brainwashing workshop sessions. This sucks big time.
You tried ALL buzztrendy methods. You had ZERO result & you end up beating yourself up.
STOP THE MADNESS.
Hit the pause button.
Been there, done that. And, it's painful AF.
Sure, I wish I had a magic wand to flip your life upside down & open the doors of authenticity RIGHT here, RIGHT now.
But, I'd rather give you the tools, resources & framework to change your life for good & make it a long lasting change.
At this time, you may roll your eyes 🙄  because it looks too good to be true. Before diving in, let me bring you behind the scenes.
⚠️  All sales are final. No refund. ⚠️ 
⚠️  Available on Kindle, Paperback, Hard cover ⚠️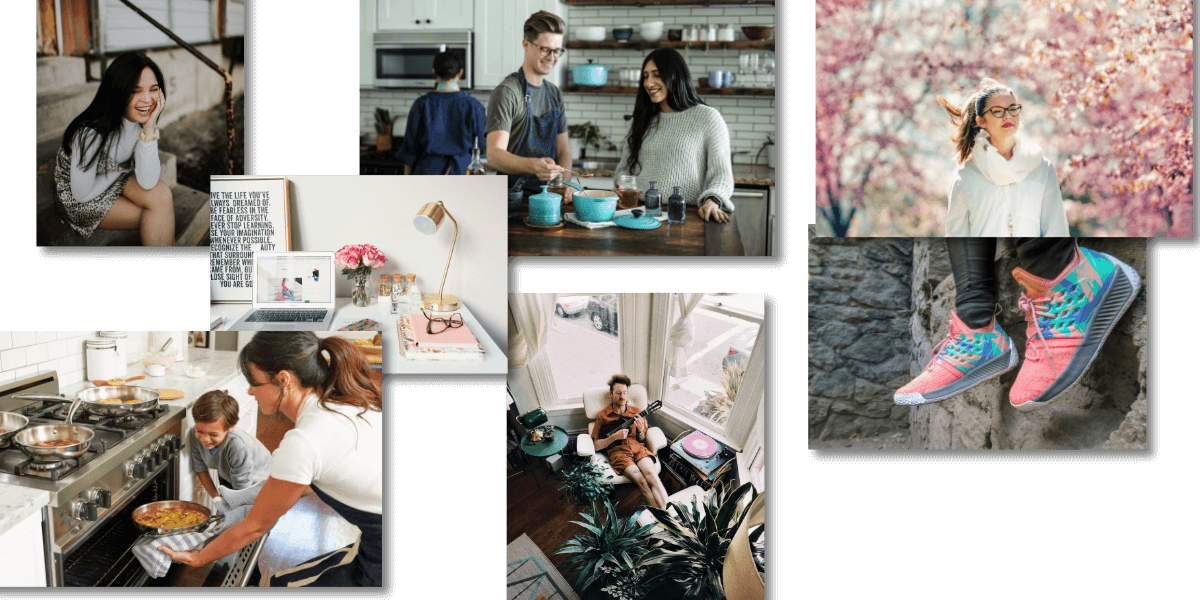 Thank you so very much for your time and sharing your insight and knowledge.
Just got my planner and I'm printing it now. LOVE IT! So much juicy information.
* pictures are illustrations to protect client's privacy
How a bunch of snow changed my life path in January 2011
Snowflakes everywhere. Icy roads, white roofs and stacks of snow lie everywhere around me. No doubt, it's winter in Montreal. Polar temperature included (how are we supposed to survive by -30°C?). Cluster of students rush to the closest coffee shops searching for warmth or lattes. I can't believe it's just 6 pm. It's pitch black and public lighting is def' not helping at all.
Here we are, it's how the story ends. I thought my final chapter would be more grandiose (or at least less cold. You know strawberry margaritas, summer-y temperature and maybe a fake coconut tree). But, here I am, almost buried in a bunch of snow.
I zoned out. I'm not there anymore. I cry for what seems to be an eternity or two. My skin took a blue-ish tone that would have looked pretty on a Smurf. But, it's not a cartoon. It's a real life moment and I wear no coat, gloves, nor scarf. My face is marbled by tears rolling. No one sees me, my pain, my distress. Like a bad dream, all I can recall is the laugh of people who passed by and the deep void inside my soul.
Still today, I don't remember how I went back home, but I reached a breaking point. That night, I wanted to die 5000kms away from my loved ones. I couldn't handle that amount of pain anymore. That night, I peeled off every BS, every layer of « life lessons » imposed by my peers for years now... with the fake hope I'll be accepted, respected, understood only if I fit in.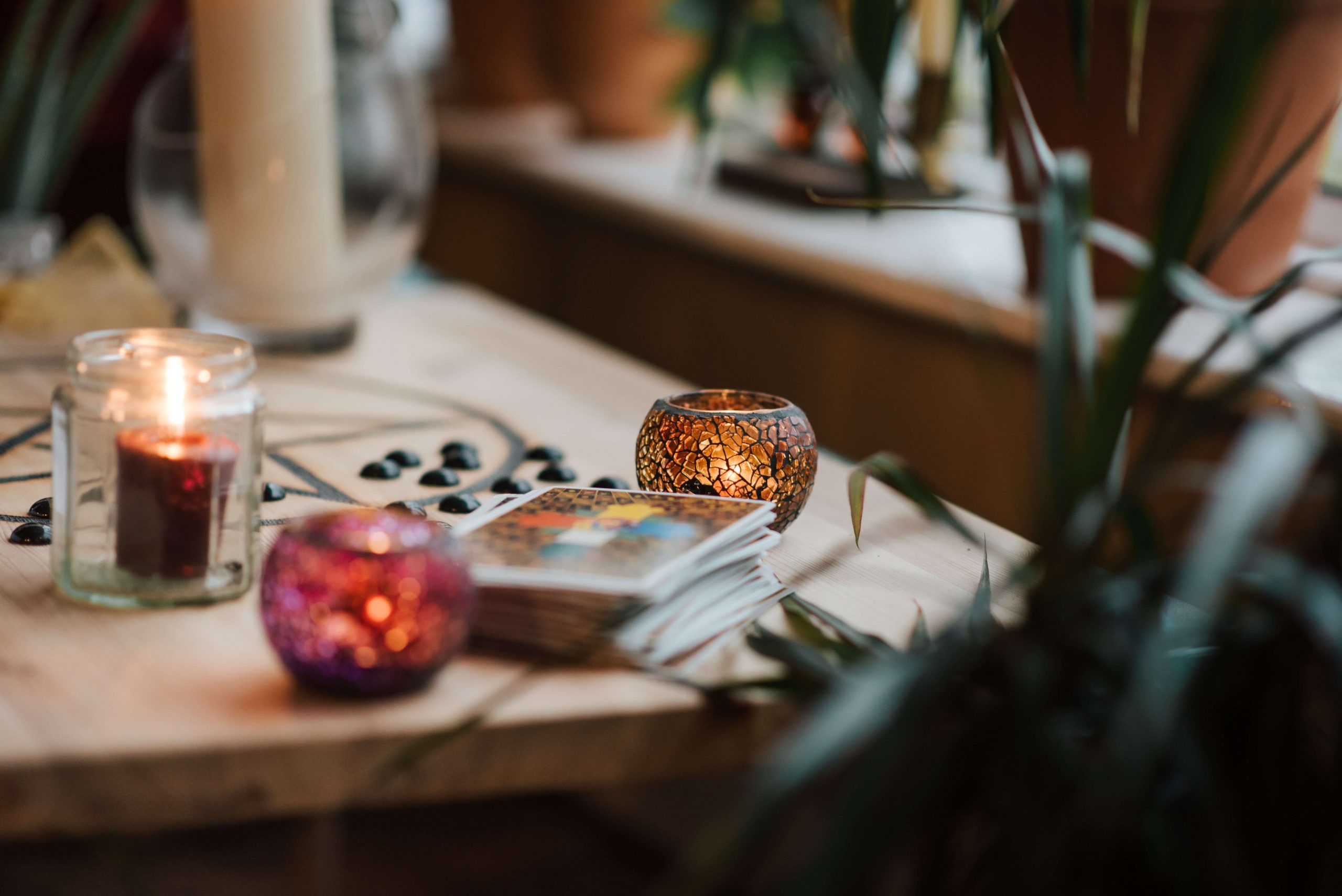 The moment I outlined the exact framework you'll learn in Comfort Zone Rocks, pieces fell into places (finally).
Almost a decade after …throwing away all the self-help crap engrained in my mindset
I've been able to:
–  write a full thesis in 9 months (when most PhD students need up to 5 years)
–  move from Canada to France to support my Mum
–  publish 6 books
–  write a play
–  gather a fantastic community of 10k+ Humans all over the world
–  plant trees every year
–  develop accurate AF intuition
–  create my own oracle decks
–  create, design, and sell a product I'm super proud: a planner
–  own who I am: an intuitive, non conformist soul who loves tattoos, hard rock, high heels, and chocolate
More than vanity or bragging, it's about showing you what's possible. What you can accomplish when your lifestyle is there to support and heal you.
So when you'll think " what works? " you'll never have to admit " nothing works for me ".
⚠️  All sales are final. No refund. ⚠️ 
I stumbled across Ophelie's material and I felt an immediate connection. She is real and honest. She had helped me to embrace that which I was missing: simplicity and warmth.
I have never seen anyone use Hygge like that… makes me wonder… maybe it works.
I've learned from your blog that every Human can live a simple, happy, cosy and most important productive live.
* pictures are illustrations to protect client's privacy
⚠️  All sales are final. No refund. ⚠️ 
⚠️  Available on Kindle, Paperback, Hard cover ⚠️
Drums rolling
👩🏻‍🎤 This is NOT your typical self-help book. 
👩🏻‍🎤 NO guilt induced by fad trends.
👩🏻‍🎤 NO shame because you're quiet, introvert, empath, highly sensitive.
👩🏻‍🎤 NO common BS.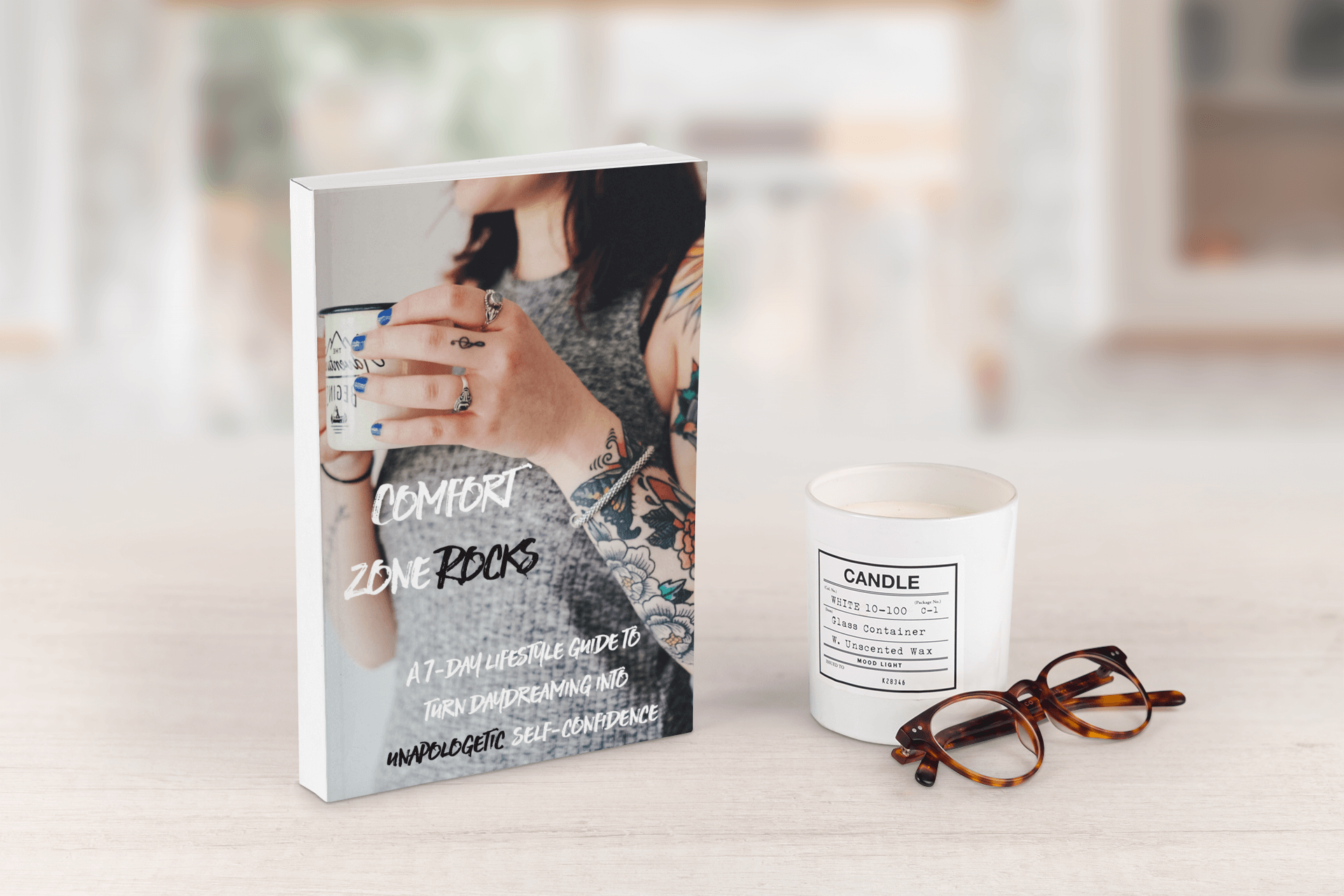 This book is
about shifting your Self one baby step at a time so you strip away years of toxic positivity
Be assured this book is made for you, the truth seeker, to discover your inner skills, create a custom blueprint, & follow through when doubt is crippling: in just 7 days.
All you need is to take the first step (cough cough = read the book)
⚠️  All sales are final. No refund. ⚠️ 
⚠️  Available on Kindle, Paperback, Hard cover ⚠️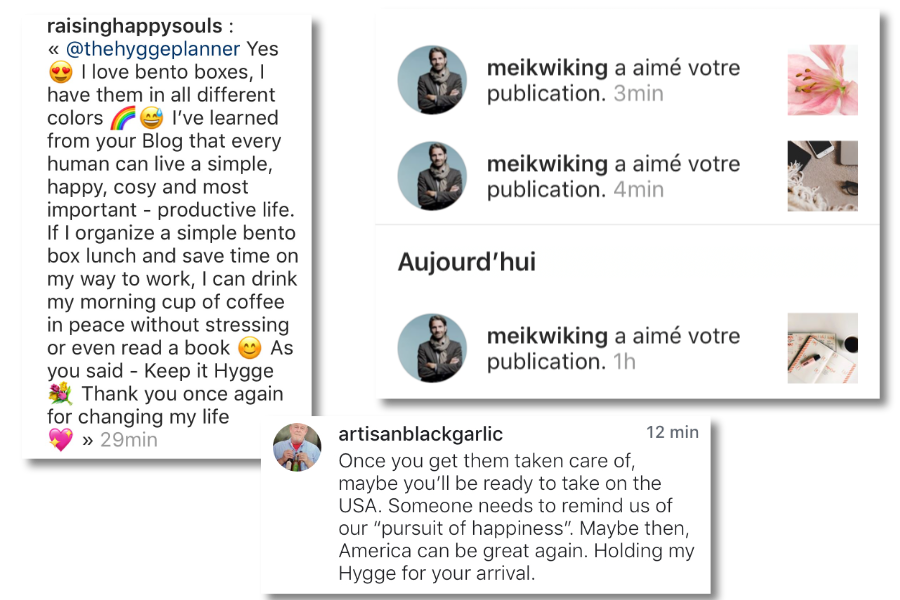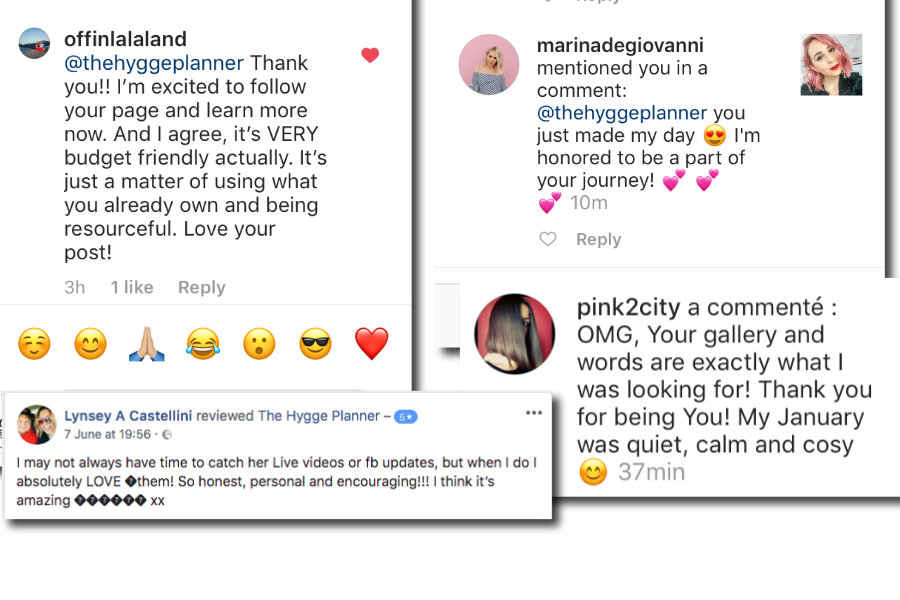 Here's a sneak peek of what you're getting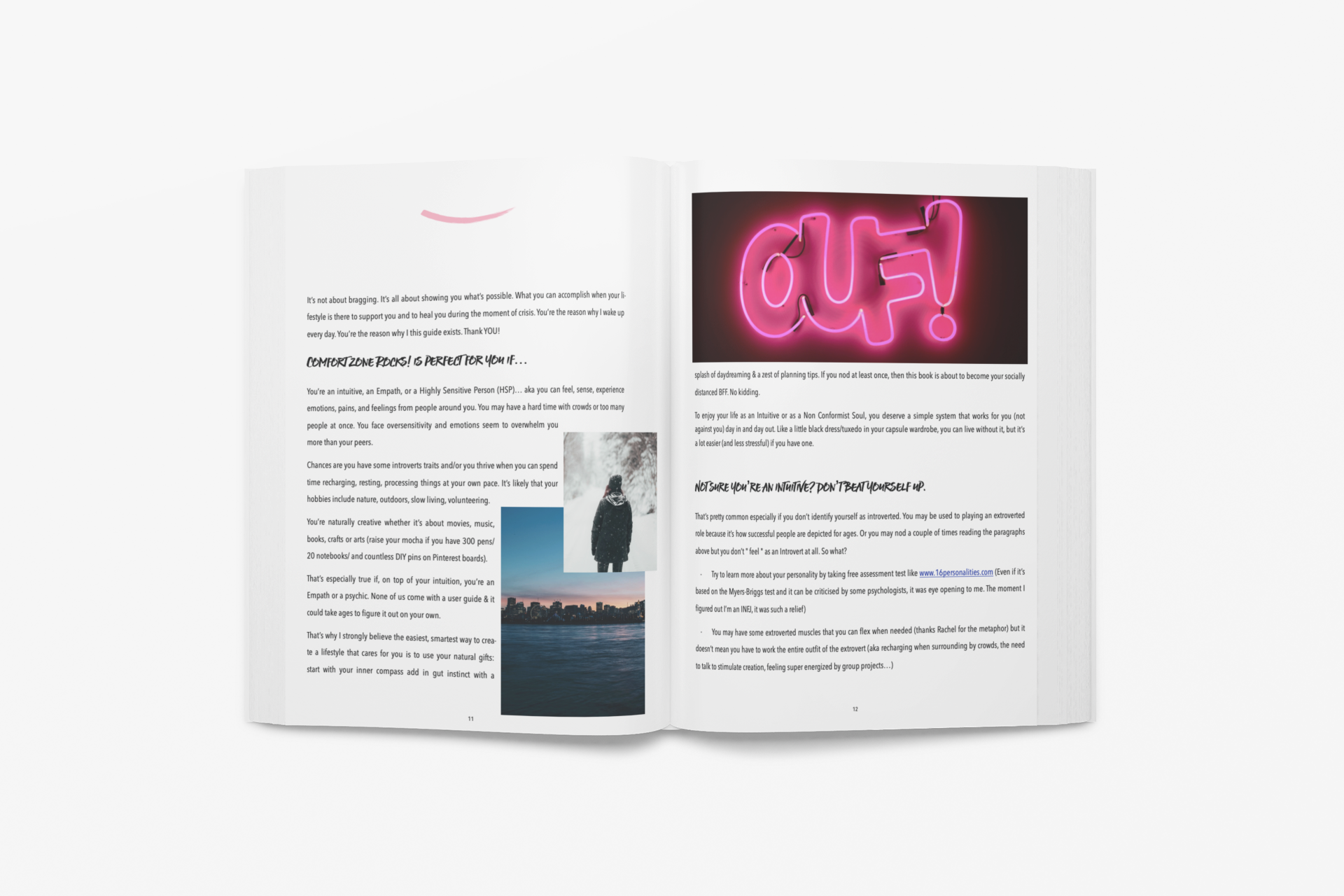 How to turn a painful moment
into a life changing, Marie Kondo-proof mindset shift (page 7)
What you can do when you feel like an outsider
who never fits in no matter what (page 10)
How to ditch overnight success syndrome
(over hyped self-help gurus will hate me for that… page 14)
How to say "bye felicia" to sleepless night of IG scrolling
& other pointless mastermind (page 16) 
why 95% of what you read/ consume
should go to the trash bin while you sing "I will survive" (page 20)
⚠️  All sales are final. No refund. ⚠️ 
⚠️  Available on Kindle, Paperback, Hard cover ⚠️
How to stop chasing balance
bye bye Dark Devil of shame on your shoulder (page 30)
The secret I use
to tame self doubt & boost self confidence in a snap (page 34)
How to stop second guessing yourself
for good (cos' you've fancy things to do & no time for crap page 48)
That #1 thing self-help gurus belittle
but is THE real game changer for a happy lifestyle (page 53)
the 3-step process to find your soulmate tool
Yep, it's budget friendly & nope, you don't need a PhD topass with flying colours. (page 65)
How to be healthily selfish & gently put yourself first
aka "overcome common sense & daily struggles" (page 71)
how to tap into your zone of genius on demand
discover what makes you, so you (no magic wand nor unicorn needed) page 62 
💥 Want more? 💥
Comfort Zone Rocks is a 122-page EBook. So, yep, there's still an eff amount of tools, tips, resources, ideas to unveil in the last 50 pages. It's up to you to dive into.
⚠️  All sales are final. No refund. ⚠️ 
⚠️  Available on Kindle, Paperback, Hard cover ⚠️
You just made my day. I'm honored to be a part of your journey!
Thank you once again for changing my life.
Someone needs to remind us of our "pursuit of happiness". Holding my Hygge for your arrival.
* pictures are illustrations to protect client's privacy
Your most burning Q's & my BS-free A's
I hit the "buy button" then what's next?
At the end of your purchase, you'll get a direct link to download the EBook. It should look like a big blue button. 
If you have any issue, contact me at clientcare@comfortzone.rocks (I'd be happy to assist you)
Is it a physical book or a PDF?
At the moment, Comfort Zone Rocks is a PDF. You can read it right off the bat, at 3 am, during commute time (or anything in between). No need to wait for ages to get your package delivered.
I'm not sure I can open a PDF, what can I do?
Chances are a good old double click on the PDF will open the file with the appropriate app. But, just in case you don't have any software to read/open a PDF, you can check Adobe Acrobat Reader at https://get.adobe.com/uk/reader/ (available for Mac, PC, IOs, & Android). 
DISCLAIMER: you download this software at your own risks. ALWAYS seek for a professional advice if you have some tech issues.
Are my data safe?
As a former lawyer in criminal justice, your rights are my priority. That's why I encourage you to use Paypal during the checkout (so we're both protected). 
Because of the digital nature of your purchase, I'll have access to your email address and your first name. 
To complete the transaction, I use Payhip, Paypal or Stripe. No third party involved outside these. 
How long do I have access to the book?
What about…. forever. I know it's a long time to go. Maybe in 3 billions years, an digital archeologist will find Comfort Zone Rocks on an old hard drive. 
Only $7?! That must be an hoax
$7 is roughly a venti white mocha at Starbucks (without the green mermaid and the nice waiter/waitress). Take a deep breath & keep reading.
1/ $7 is affordable enough to keep your monthly budget healthy & balanced.
2/ Freebie seekers: go your way. Comfort Zone rocks is made for the trailblazer, the courageous & daring soon to be confident woman ready to take actions.
3/ This is the book I wished I read 10 years ago when I was that close to commit suicide. Now, I'm committed to share it with as many Humans possible.
Why don't you have a physical book yet?
I plan on releasing a soft cover version soon. But, considering the time it takes to produce, sell, advertise, distribute, & ship, there's no way I can price it at $7 only. 
I'm so confident the framework I share in the book will inspire you that I'm ready to cut on my earnings by releasing a PDF first.
This E Book you'll get is a full, complete edition. It's NOT a summary or a short version.
How do I know if this book is made for me?
This book is made for:
– the truth seeker
– the revolutionary at heart
– those who never belong or fit in
– the unheard quiet
– the rising rebel
– the misunderstood introvert
–> the precious soul that wears his/ her heart at the sleeves and wants to feel accepted, free, happy to follow his/her own rules as long as he/she harms no one.
–> the courageous one who picks up the phone at 3 am to support a friend, who takes care of stray dogs/ cats 
–> the heartbroken soul who deserves to be respected for his/her way of living. Judgement free.
– the untamed one who looks for a way to slow down, stay away from drama, find inner calmness, and enjoy simple pleasures.
This book is  NOT for :
– the naysayers
– the "follow the herd" fashionista
– the overnight guru fan
– the fad trends follower
– the quick fix, scammer, hoax addict
– the "I must be right, I'm extrovert"
– the "I must spread mean comments because I'm afraid of your calmness, strength, and inner peace"
How is Comfort Zone Rocks different from other self-help books?
Comfort Zone Rocks debunks myths, common sense, & trendy methods so you can get back to basics. It's like decluttering your mindset from years of BS imposed by medias, influencers, and other so called gurus. 
I broke down how I went from committed a suicide to quitting my dreadful academic position. I share a framework with you & I give you tonnes of ways to customize it so it reflects who YOU are and not who I am.
I NEVER read/ listen/ watch/ attend a workshop that allows you to create a personalized blueprint and plant the seed of a whole new lifestyle. 
I'm not happy with my purchase
Comfort Zone Rocks is a part of The Hygge Planner. Therefore, the refund policy follows are the same. 
Because of its digital nature, I offer NO refund. When you buy it, it's definitely yours. 
-> Under each button, I added a clear mention of this particularity so you're fully aware. 
I'd love to share your book with my besties, how can I do?
First off, THANKS a bunch. You're a rockstar.
You can share the book on social media using the #ComfortZoneRocks so I can give you a shoutout.
You can share this page too (www.comfortzone.rocks/book) so you help me to spread the word out there.
Psst… Let me know if you refered people who bought the book at clientcare@comfortzone.rocks (I may have some goodies for you)
⚠️ All sales are final. NO refund. ⚠️